By Cyn Terese

on Kitchen Redo
I wish I could say that I like to save packing material because I want to save the planet by keeping it out of the landfill.
But the truth is that I find it fascinating. It comes in all shapes and sizes; it looks like an art project all its own; and I can always find an alternate use for it.
For example: By breaking it up into small pieces, I am able to fill almost half of a large flower pot by throwing it down at the bottom before filling it with soil. It helps with the weight of the pot and it also helps with drainage.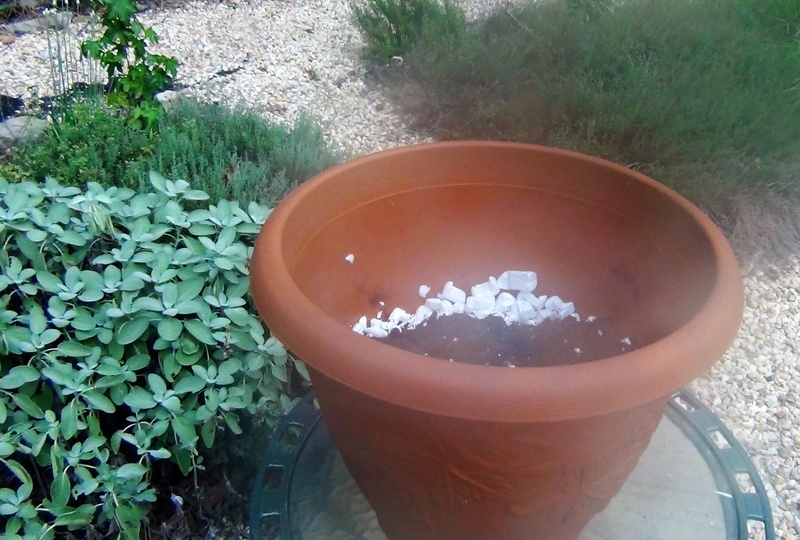 During my Dining Room Redo, I also used it to fill large gaps between the top of my window frames and the stone wall behind them.
After I removed the wallpaper in the dining room, I noticed a ½ inch gap at the top of every one of the windows. At first, I debated whether I should leave the gaps or fill them in to minimize drafts during the winter months.
I chose to fill the gaps but since they were so wide I couldn't imagine using wall mud or plaster effectively. Instead, I cut a half inch sliver of Styrofoam the length of the window and filled each gap with it. Then I sealed the foam in with dap and walla – no more gap! Pardon the pun.
Now, to the most insane use for Styrofoam.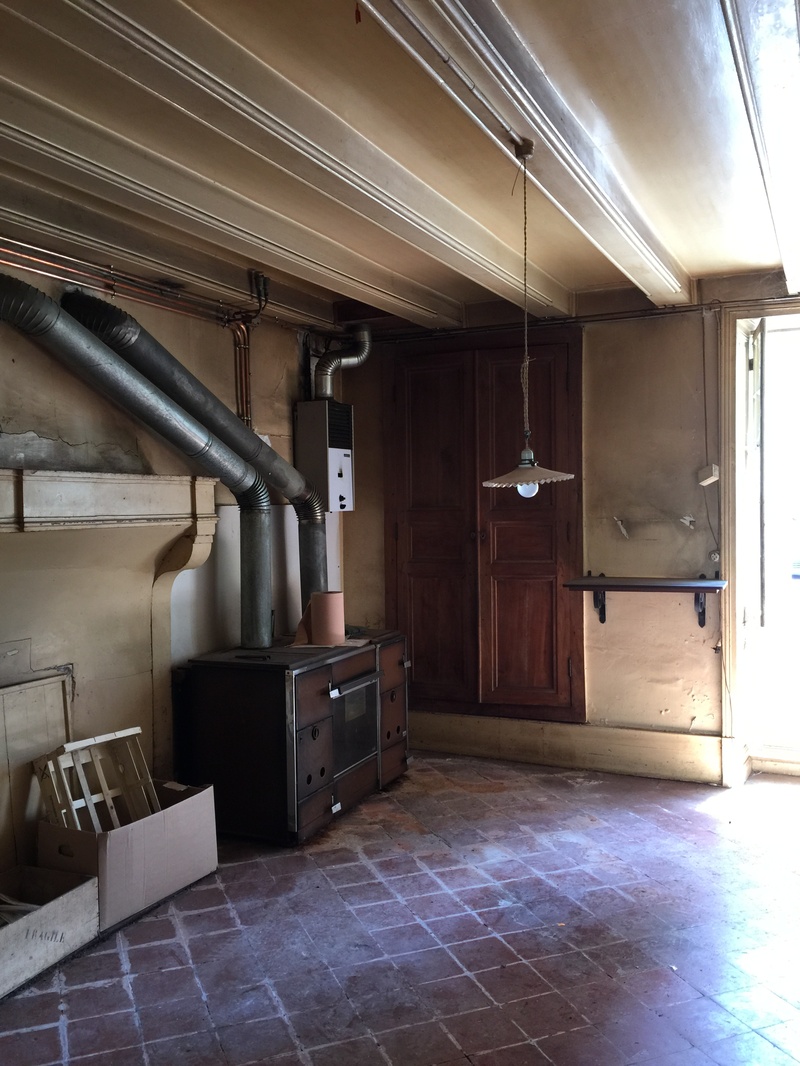 Notice the wood burning stove in the corner? It made the kitchen smell like a vacation inside a barbecue pit!
BUT...
After Simon, the plumber, removed the wood burning stove in the kitchen and disconnected the galvanized pipes from the wall, two large six inch holes remained in the wall.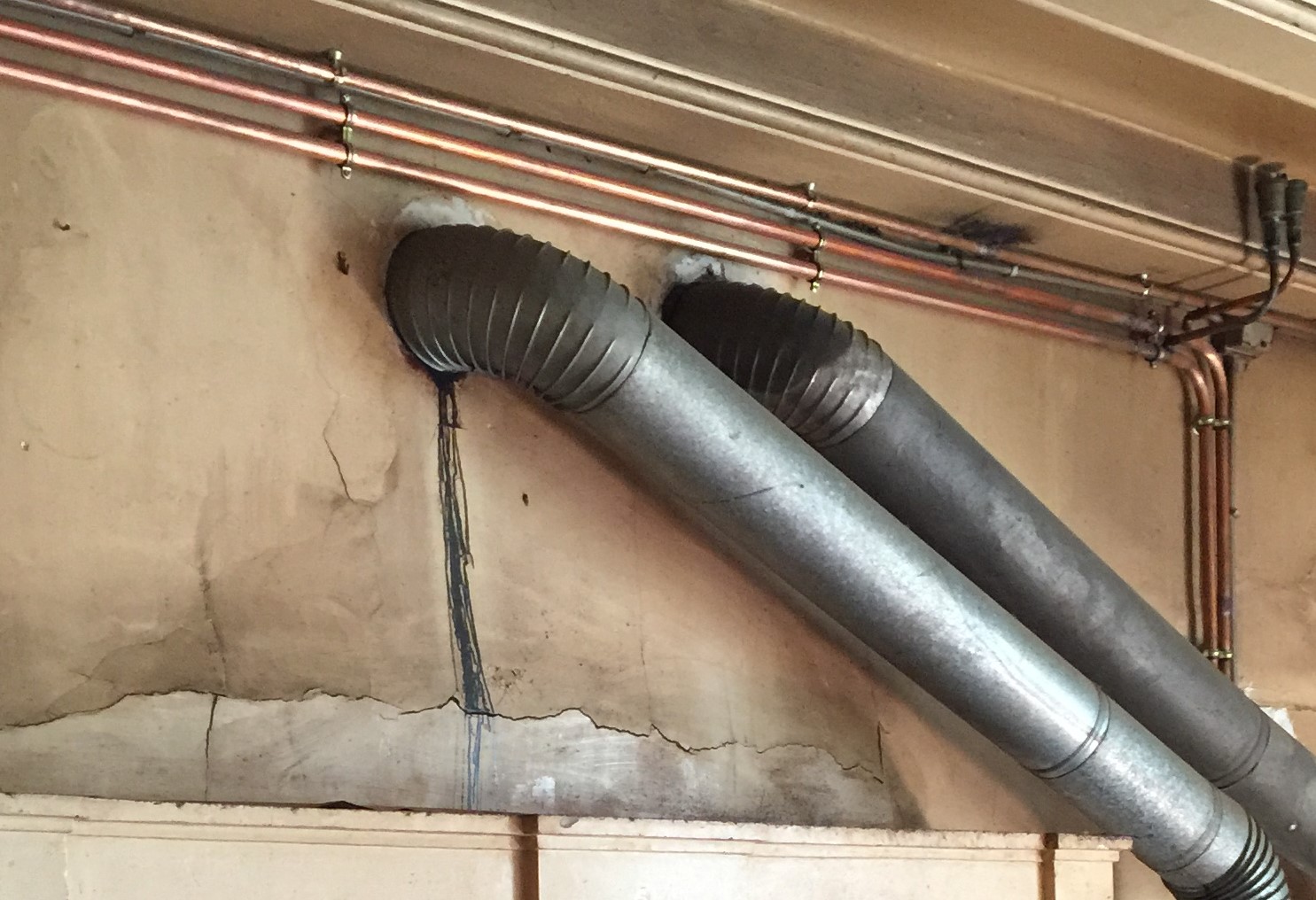 Luckily, I had two circular Styrofoam discs six inches wide stashed away in the closet. I know! What are the odds, right?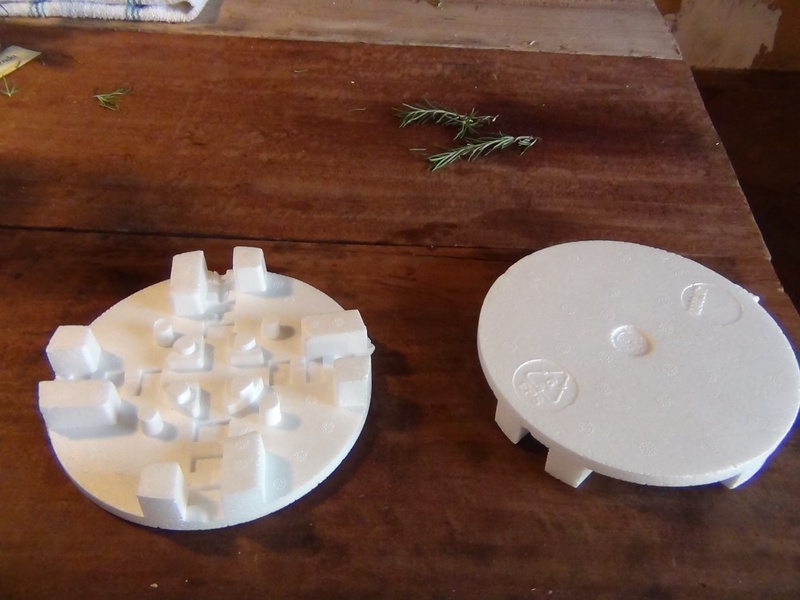 I took the discs and jammed them into the holes in the wall. After filling the holes, I was able to cover the area with wall mud and make the foam and the holes disappear.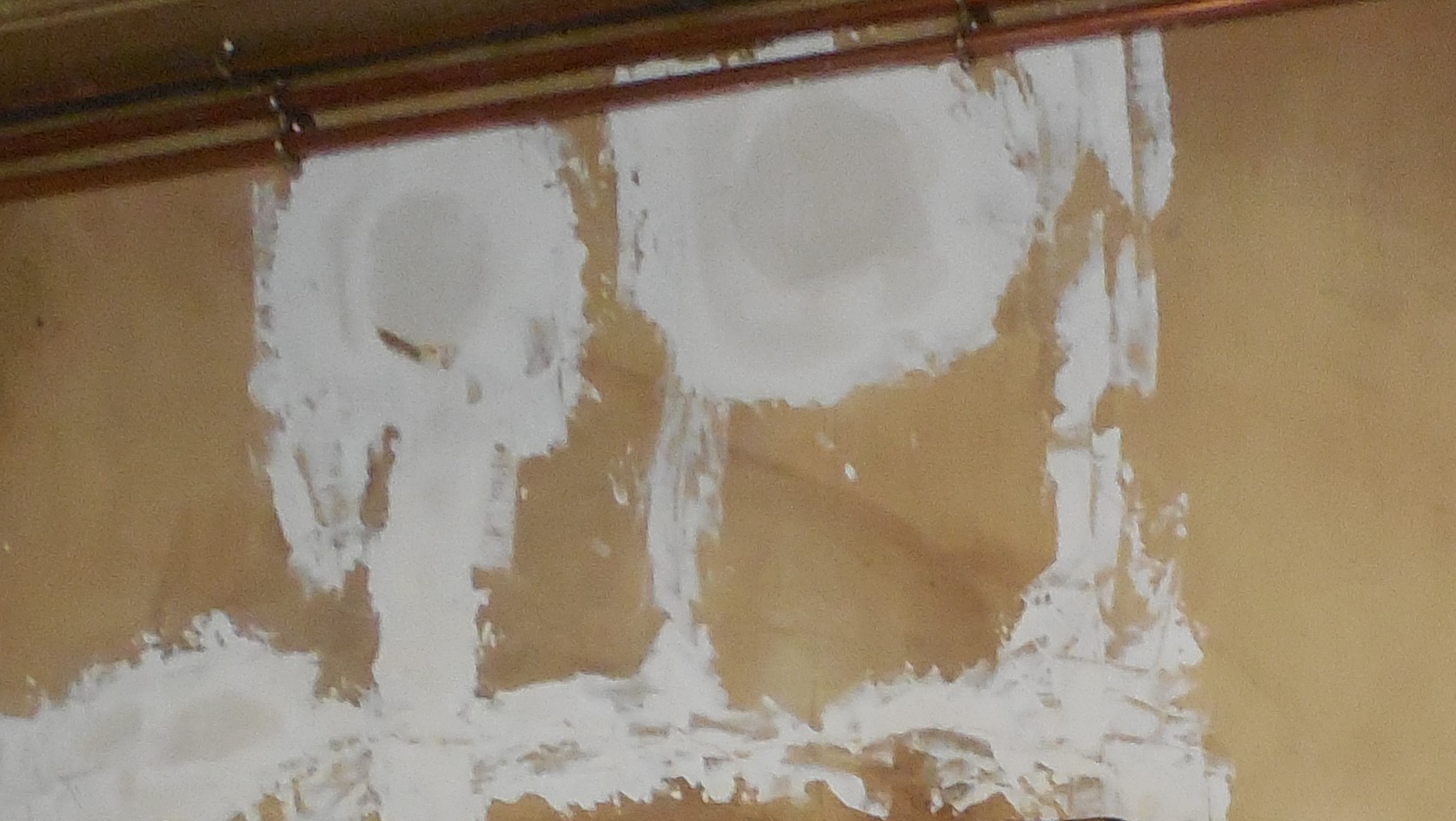 Once the stove and the pipes were removed, this is how the kitchen looked with all the holes, imperfections, and cracks in the wall filled in with wall mud. I wasn't very neat, as you can see, because once the mud dried, I planned on sanding the rough edges down with sanding sponges.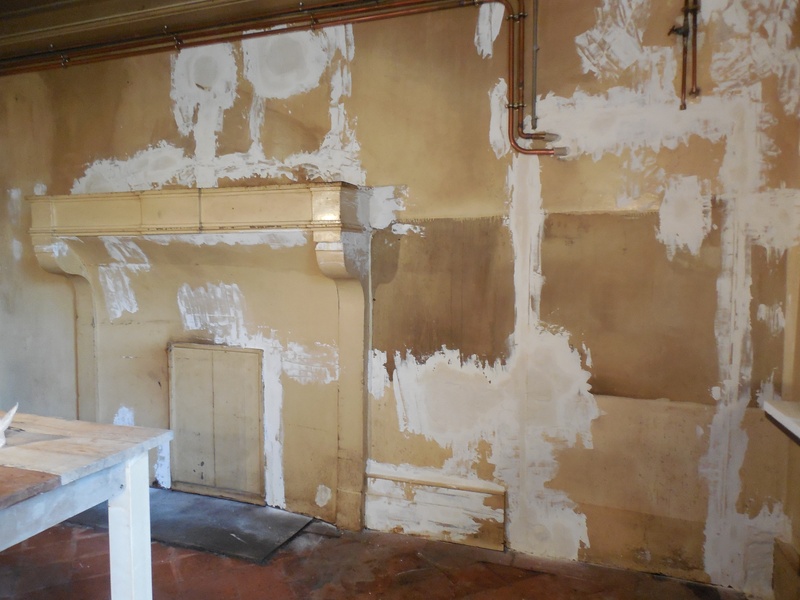 Now with a fresh coat of paint and a few antique olive oil jugs I found in the attic, the fireplace in the kitchen and the mantle above it, look like they belong in my modern kitchen.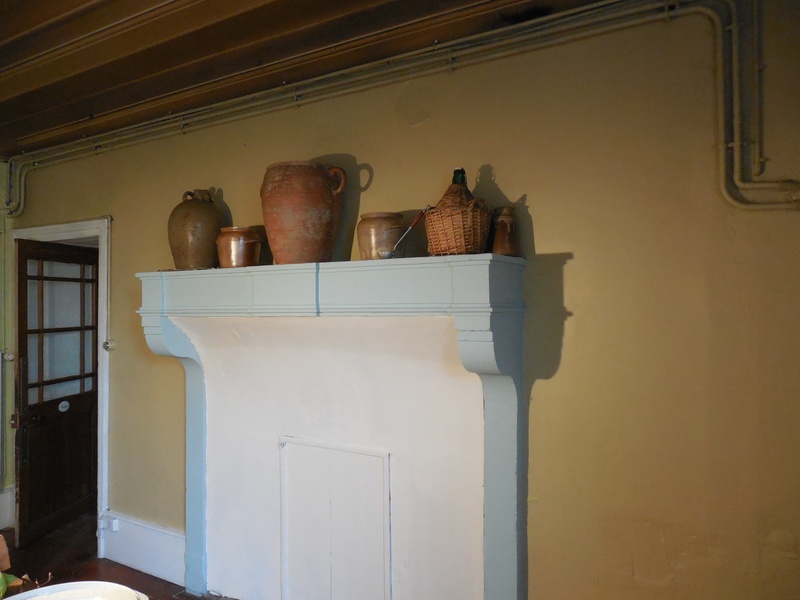 Well...  It will be a modern kitchen, once I have the cabinets and shelves built in.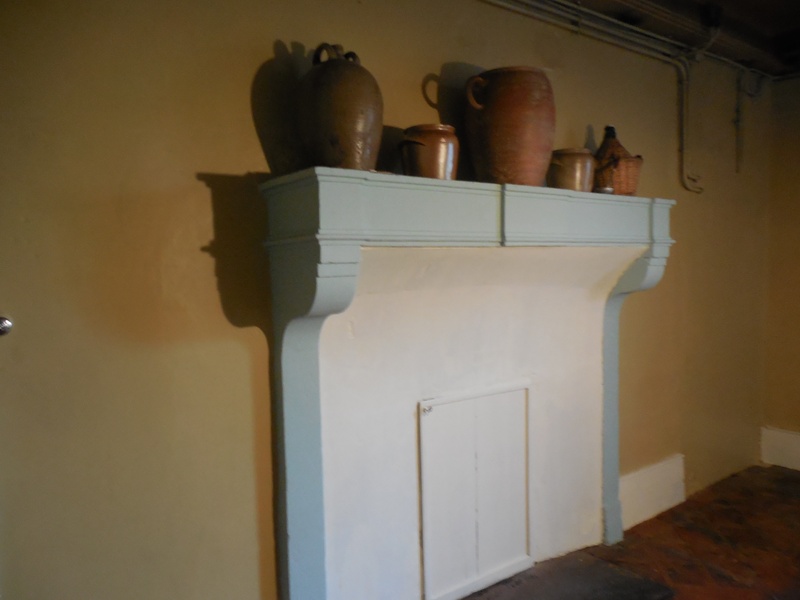 Until then …
Au revoir!
/