By Cyn Terese   on Dining Room Redo
We all know that feeling… The feeling when your goals have been met and you sit back to take it all in. Ahh, that feeling of satisfaction because finally your work is done.
For me, that feeling lasts about as long as it takes a cat to dash across a busy road in the middle of traffic. Moments after I sit back and grin because the work is done, I sober up and ask, "Now what?"
Well, before I answer that question, let's take a moment to reflect. This is the Dining Room as I found it a few weeks ago.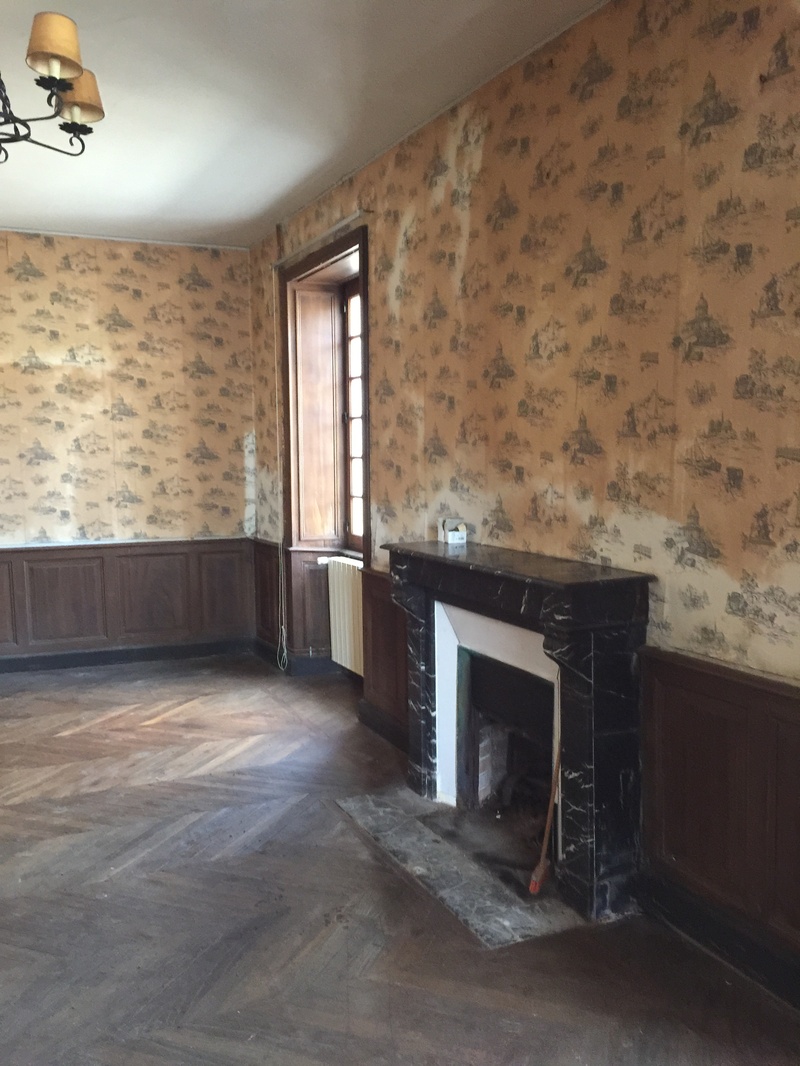 And this is the Dining Room today.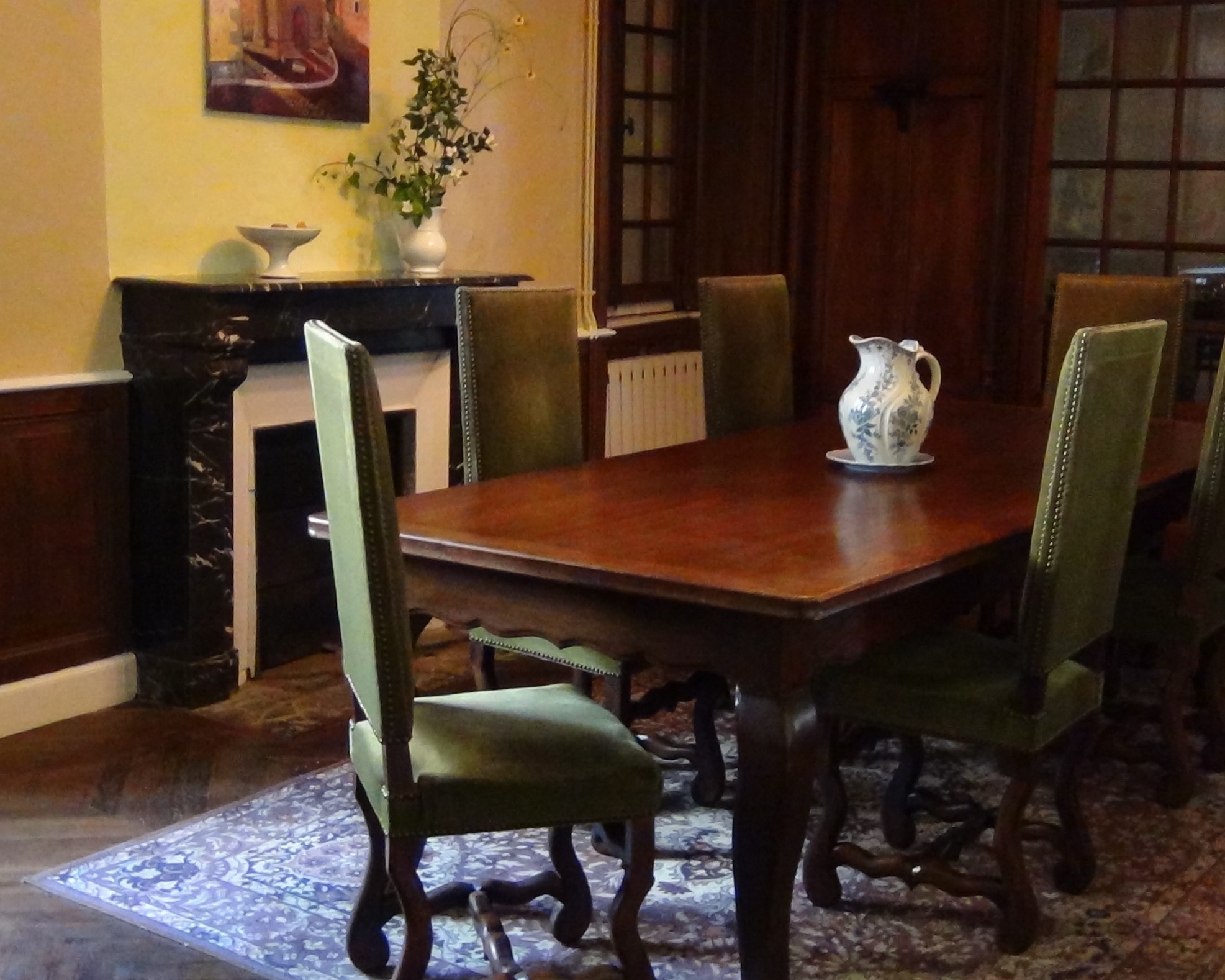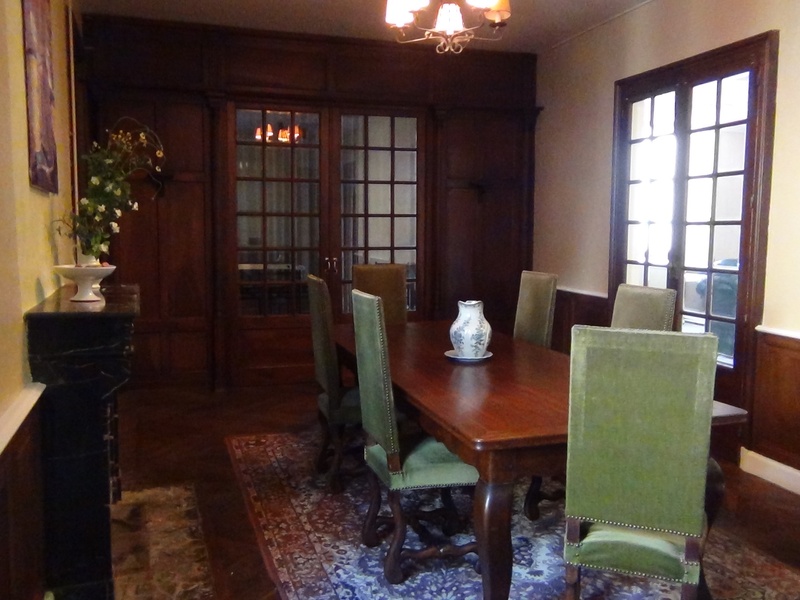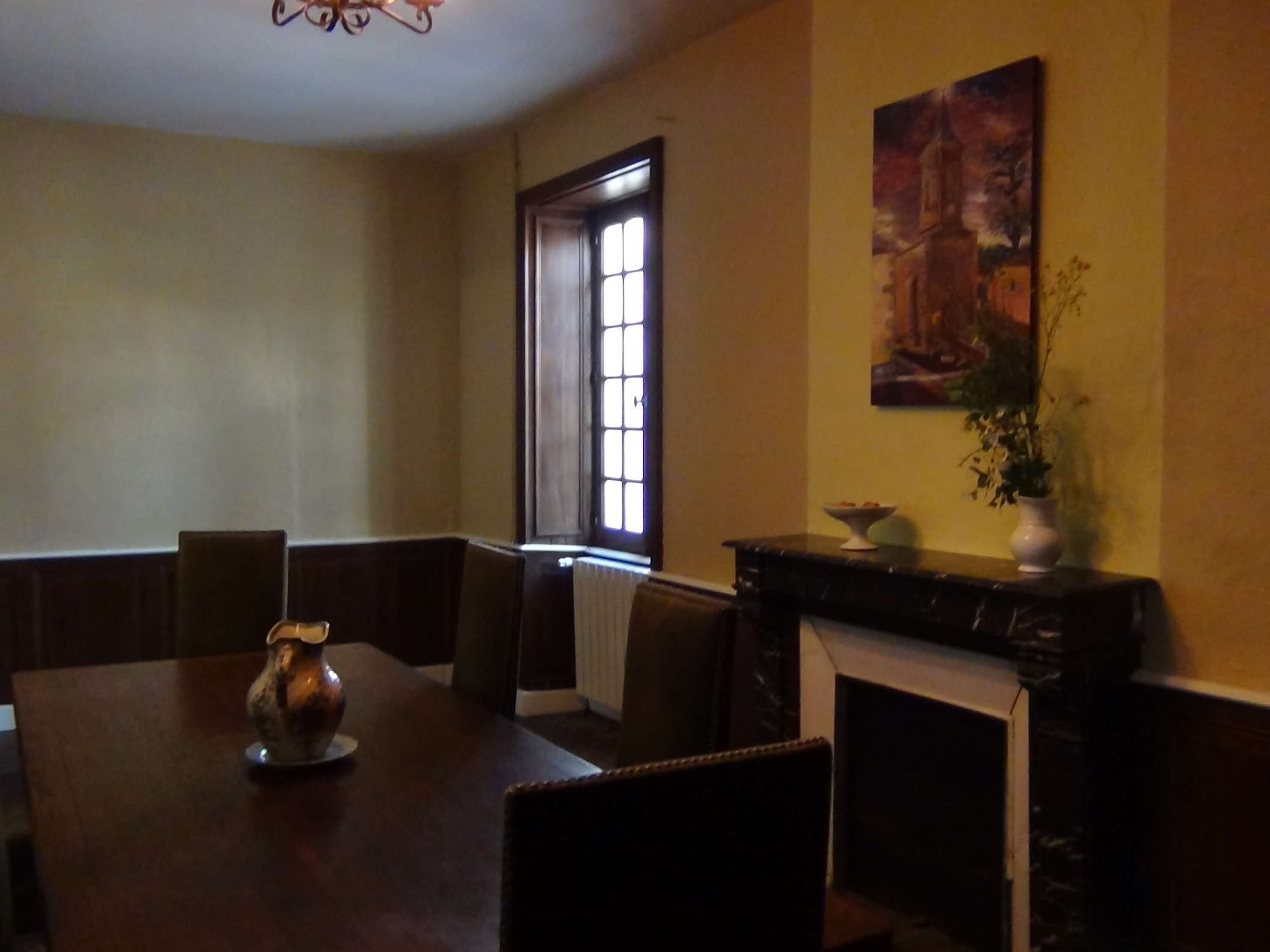 I must admit that at first, when I was scraping my knuckles into a bloody mess and breaking perfectly filed fingernails down to the quick, I did have a moment of uncertainty and feared, yes feared, that I had bitten off more than I could chew and choked for just a moment.
Then I reminded myself that no one was watching and I could do what I want. And that also meant I could paint any subject I wanted to hang on my dining room wall.
Live the life of a painter in France, I said, ala Vincent Van Gogh! But living across from the Church of Saint Laurent, I couldn't ignore it since its bells ring every hour on the hour. With most days either cloudy or downright thundering and lightening, I decided to set up my easel in front of the open window facing the church.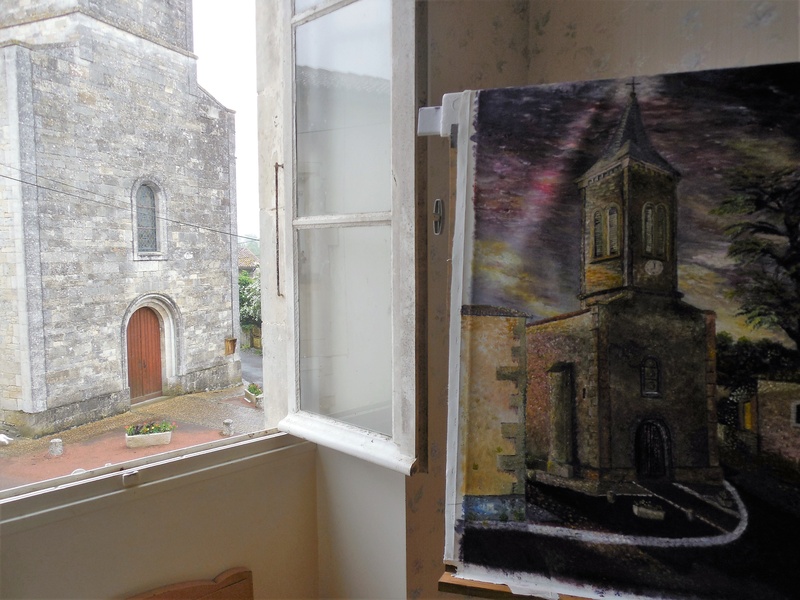 This, my friends, is as close to plein air painting as I can get, being that I'm a smart person and draw the line at painting outdoors in a thunderstorm.
Now that it is done, it will have to fully dry while hanging on the wall. Since it is an oil painting, it must cure for at least six months before I can seal it with a few layers of varnish.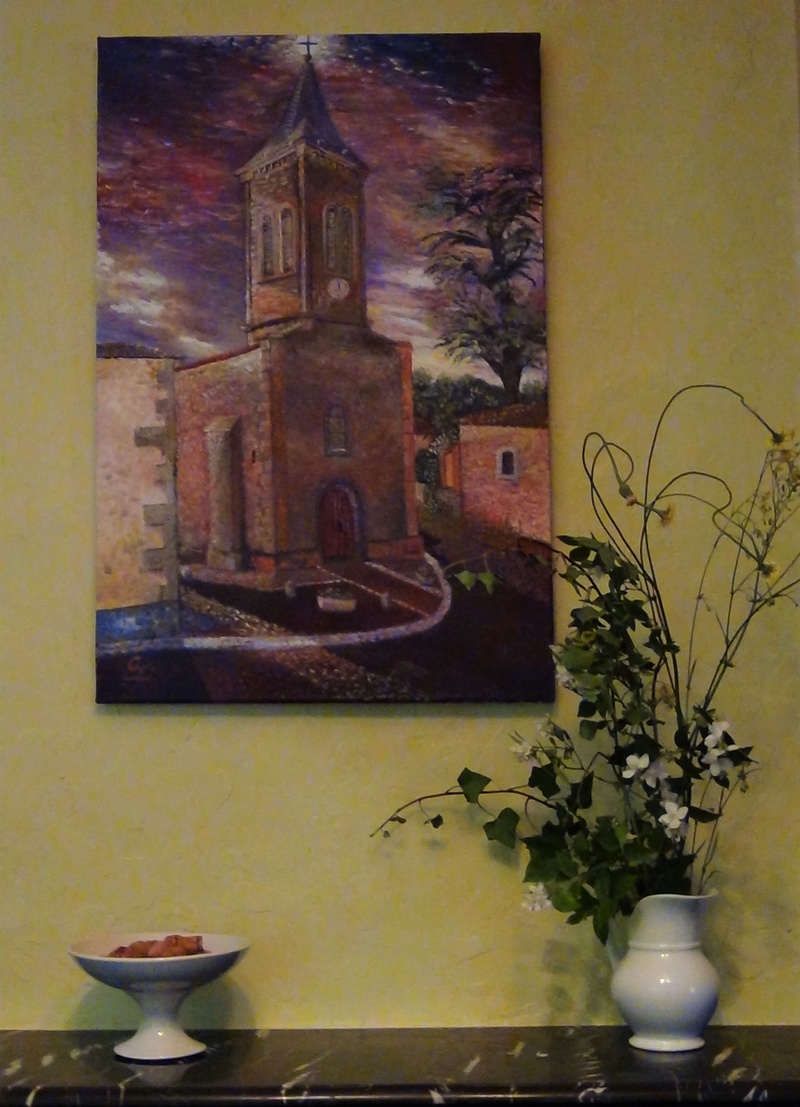 .
Now to answer my question… In a perfect world, all I'd have to do is look at my work schedule to see what new goal, what new task, what new room demanded my attention. Well, since I'm living in a one hundred and fifty something year old house, she writes the schedule, not I. So until next time…
Au revoir!
By Cyn Terese on Dining Room Redo
When buying an older home, or as they say here in France, "a character house," it stands to reason that the home you finally decide to buy has certain features that you found appealing.
In my "character" home, I fell in love with the floors. In the dining room, it was the parquet floor. In the foyer, it was the terrazzo floor with four mosaic stripes bordering the edges; one yellow, one orange, one white, and one black.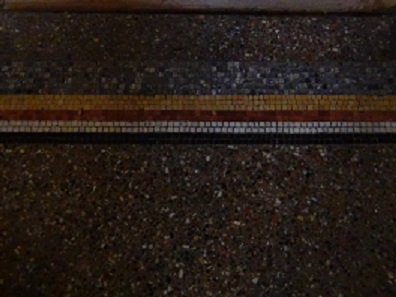 Since the foyer leads directly into the dining room, I took a design element from the mosaic stripes and decided to paint the baseboards in the dining room white. I loved the way the white baseboard gave definition and broke up the monotony of the brown wainscot and the brown floor.
But, when I stepped back to get a better look, the white on the baseboard look arbitrary. It seemed as if it had no rhyme or reason, it was just there "because I wanted it there."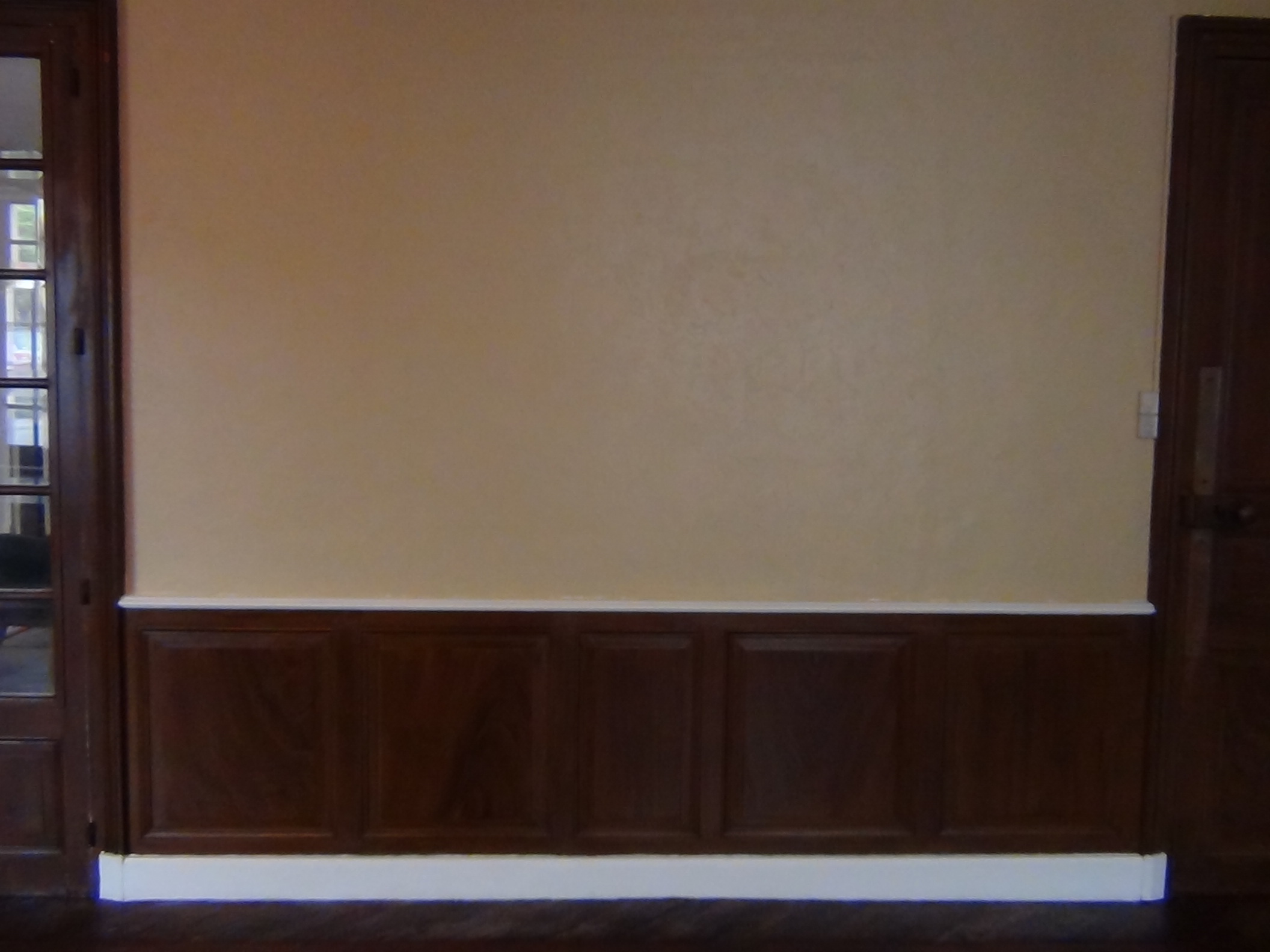 Then I realized I hadn't gone far enough. The cap at the top of the wainscot also needed to be white, creating another series of stripes on a larger scale as those on the edges of the foyer floor.
I finally understood what I was trying to achieve - my left brain finally caught up with my right brain. And – it looks fabulous! OK, okay, maybe you might have another adjective to insert here, but I'm happy with the results.
Au revoir!
By Cyn Terese

on Dining Room Redo
Color for the eyes is like flavor for the taste buds, it's completely personal and no two people will ever experience it the same. That's why I say, know what you want and know what you like and stick with it.
As I painted the dining room with a soft buttery cream color named "Innocence," I was shocked by the final product. The resulting color became a shocking lemon yellow when it was paired with the dark rich walnut tones of the wainscot and the floor. It was reminiscent of the 80's disco days of John Travolta, if he had been wearing a brown polyester suit and a lemon yellow satin shirt with a wide collar.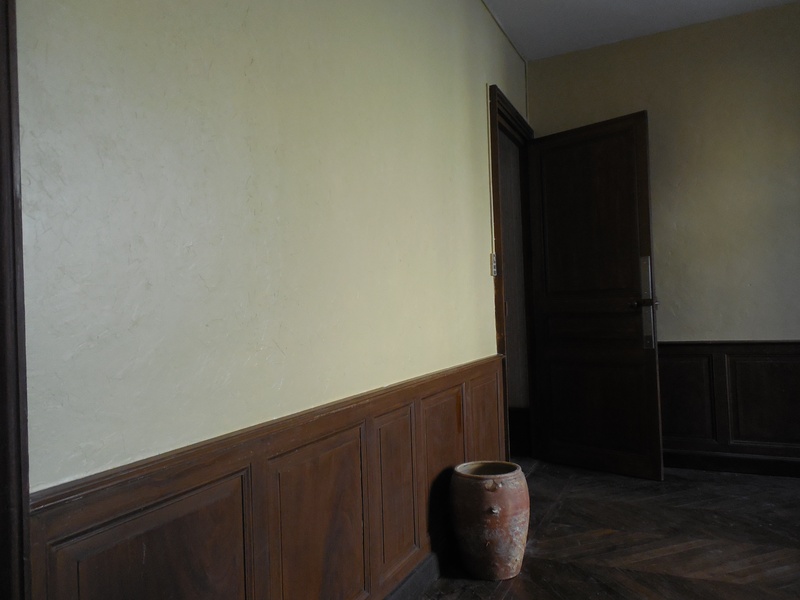 Although the color on your screen does not reflect the true shocking lemon yellow color, take my word for it, it is there!  For a few moments each evening, with the light streaming through my west facing window, the color on the wall was the exact color I'd hoped for rest of the room. But as the light changed within minutes, I couldn't let this color remain on the walls.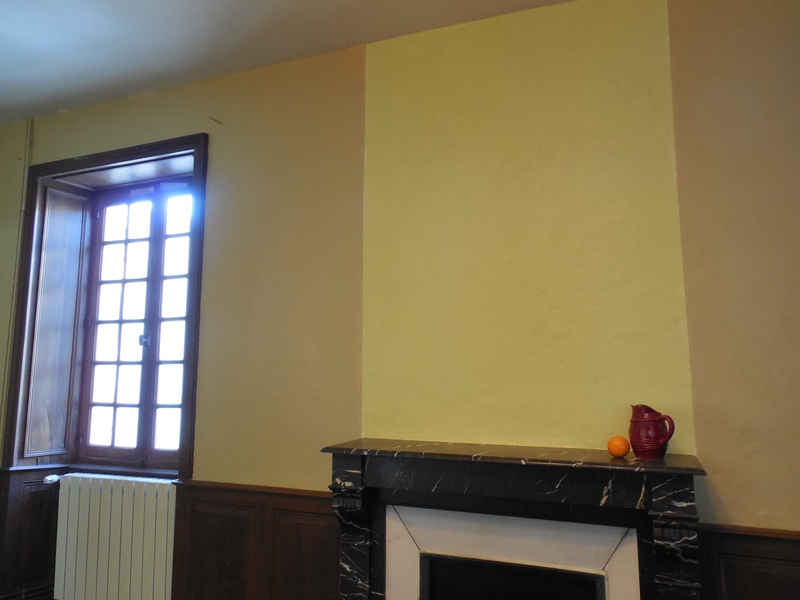 I decided to leave a portion of the yellow color to create a focal point over the fireplace which actually looked nice over the black and white marble mantle. Im planning on painting a picture with oils on canvas that will be predominently the colors of the pitcher and the orange.
Go to: CynTereseFineArt.com to see some of my other work in oils and acrylics.
Now onto the baseboards. Decisions, decisions…


Au revoir!
By Cyn Terese

on Remembrance
May 8th, known as V-Day in France, marks the end of World War II when Germany signed the act of military surrender in Berlin, Germany on May 8, 1945.
I mention this blast from the past because even though WWII ended in 1945, reminders of the war still exist almost everywhere you look in France. Memorials can be seen in just about every city, town, or village and always with a small bouquet of flowers at their base to signify that people still remember.
But in most cases you don't have to go far to see evidence that a war took place here. Remove wallpaper from a wall and you might see concentric and in most cases almost equal in size bullet holes left behind. Or you might find larger holes caused by shelling on exterior walls; left untouched and visible to remind us that peace, though silent, still rings with the echoes of war to this day.
This morning, I heard from a friend that a large bomb was uncovered by workmen digging a trench along the roadway to Angouleme. It measured approximately 1.2 meters long, cylindrical in shape with fins like those of dolphins on the back and less than a meter deep in the ground.
With Memorial Day being just around the corner on May 30, 2016, it is easy to forget why we celebrate May 30th as a day of Remembrance. Lacking these visual reminders, we tend to focus more on the great bargains we can get at the shopping malls and forget – nay - not occur to us why we call it "Memorial Day."
Thanks must be given to all the men and women of our military and reserves, who served and died during conflict and who serve now to keep us safe and innocent within the silence of peace.
May peace reign eternal!
Au revoir!
By Cyn Terese on Dining Room Redo
You've seen them – men in white coveralls and face masks with a trowel in one hand and an elongated container full of wall mud in the other? These are the professionals…
I, on the other hand am not a professional plasterer; can't apply wall mud smoothly with a steady hand or sand it down to a smooth finish once it's dry. So what do I do?
I call it freeform plastering. A technique used to apply texture to a wall and I'm certain used by many a professional but I'd rather think that I invented it when I was brainstorming how to finish stone walls with hidden spaces and bullet holes left over from the war.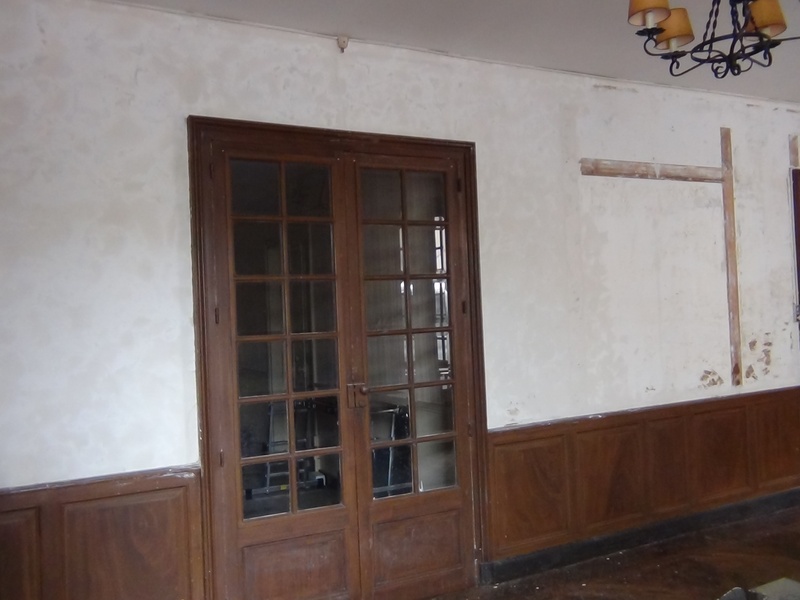 As you can see, part of the upright beam has been hidden from sight by the plaster application and has taken on a similar textured finish to the adjacent wall.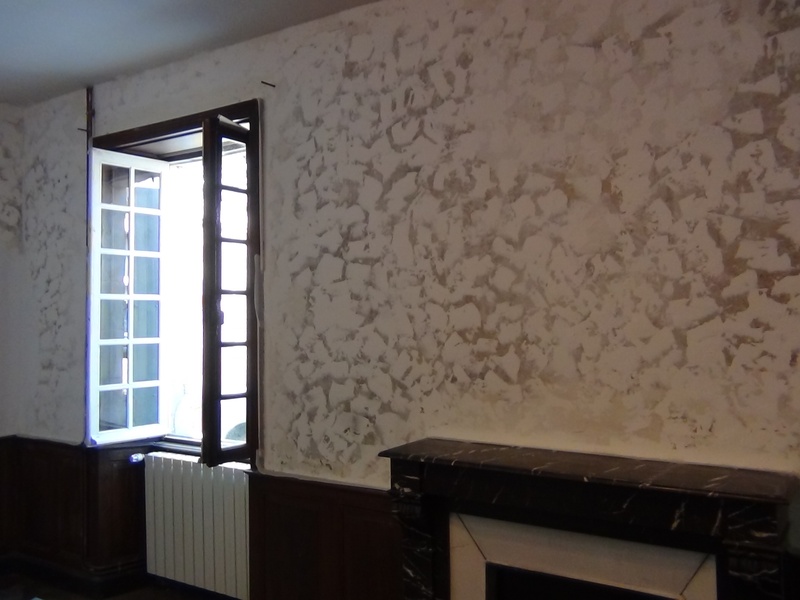 The texture in this part of the room can be easily seen as it is actually a stone wall and does not need that much plaster treatment to make it seem like stone. You can see how sparsely the texture is applied but once it has been sealed with a primer, you will not notice the difference compared to the rest of the room.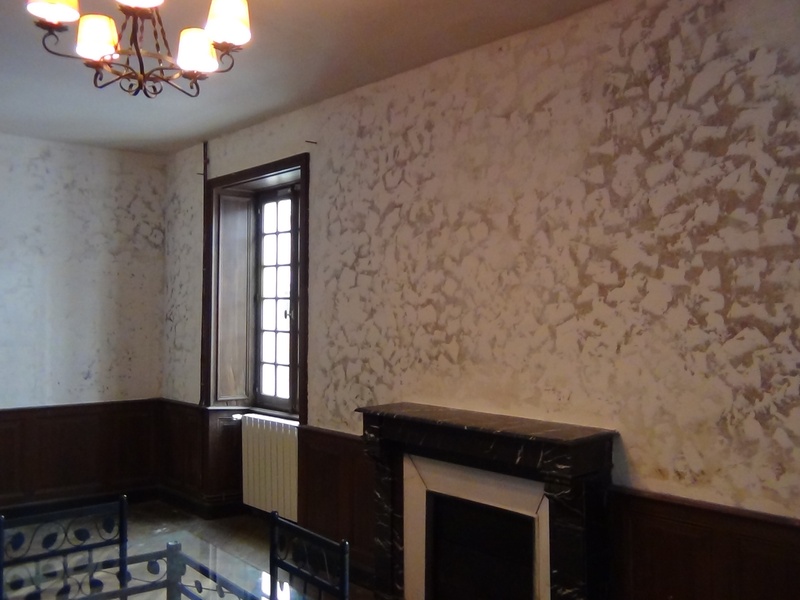 Once again you can see how the wall looks with only the texture treatment. The next step is very important. Use plain white flat paint to give the entire wall a basecoat to seal the plaster, as it will tend to absorb your paint without a basecoat, and to give the entire wall a uniform look.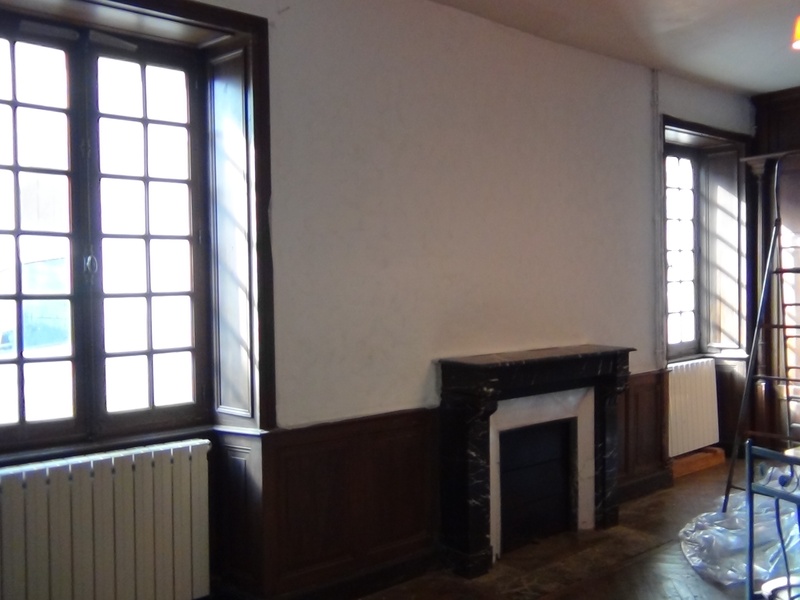 Remember that the plaster will absorb much of your paint; so, instead of wasting your color paint on the walls you can afford to be generous with the base flat white paint.
Once dry, the room will be ready for the color I have chosen for the walls above the wainscot. The dark walnut look of the wainscot will remain the same as it ties in nicely to the focal wall with the pocket doors.
Until next time…
Au revoir!
By Cyn Terese on Dining Room Redo
Admittedly, there was a time when I thought I knew best and didn't bother to prepare the space to be painted and I took longer to meticulously paint an area than it would have to prepare it first with painter's tape. Of course, I'm not even mentioning the time it took to wipe away overpainting and splashes, and straightening straight lines and borders with shaky hands.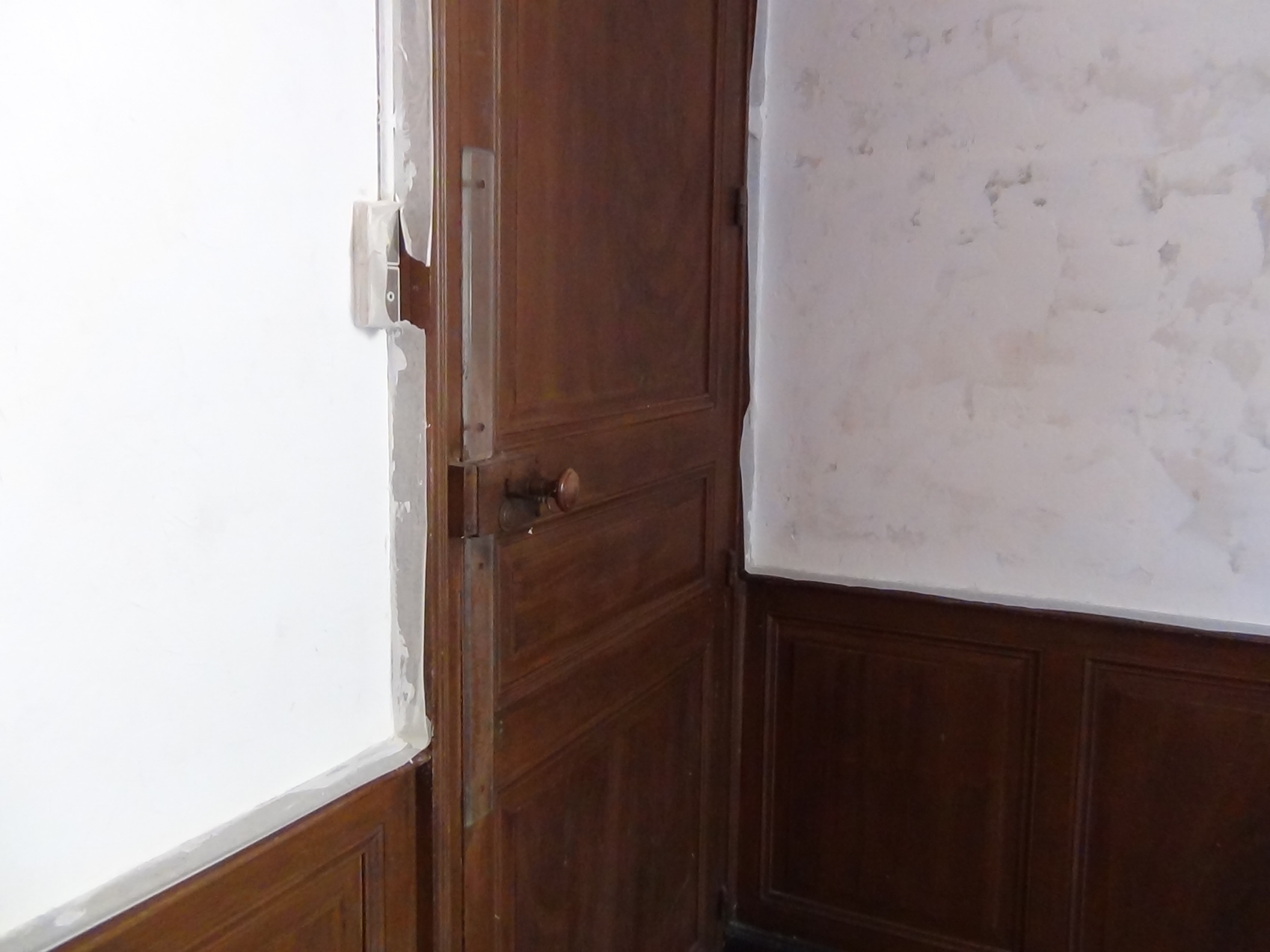 Take the time to mask off all areas that are not to be painted and use a drop cloth underneath your feet.
There is nothing worse than having to wipe away the trail of shocking pink footprints you left behind on your way to the fridge for another glass of wine.
Preparation is the key to a happy painter. No wait…or is it wine? Well, either way you can't go wrong.
Au revoir
By Cyn Terese on Dining Room Redo
There was a time in our not so distant past when wallpaper was all the rage. It had the power to beautify any room, it had the flexibility to go over any surface, and it expediently covered over many secrets which should remain undisclosed. Secrets, you ask? Well, I'll tell you…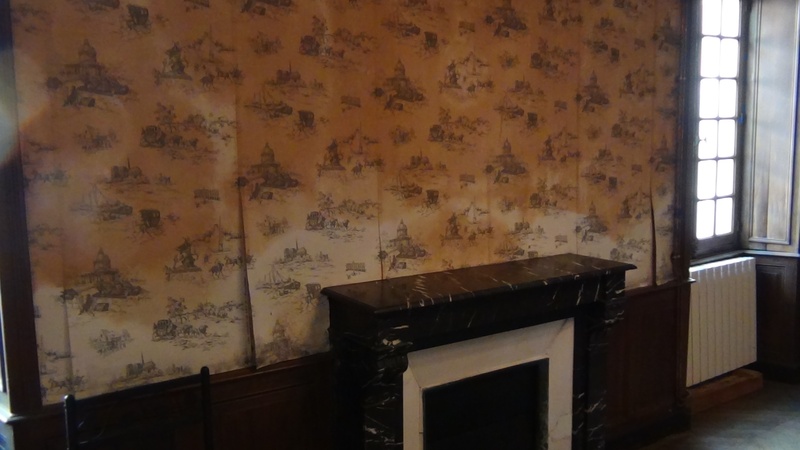 At one time, recessed into the .79248 meter thick wall, or 2 ½ foot thick wall in American speak,  there was a bookshelf or a china cabinet or perhaps even a very large safe (hey, a girl can dream) which opened into the dining room. By sealing the opening with some wood and then applying wallpaper over the top, this shelving unit was then reversed and its opening was now accessed from what I call the mudroom on the backside of the wall.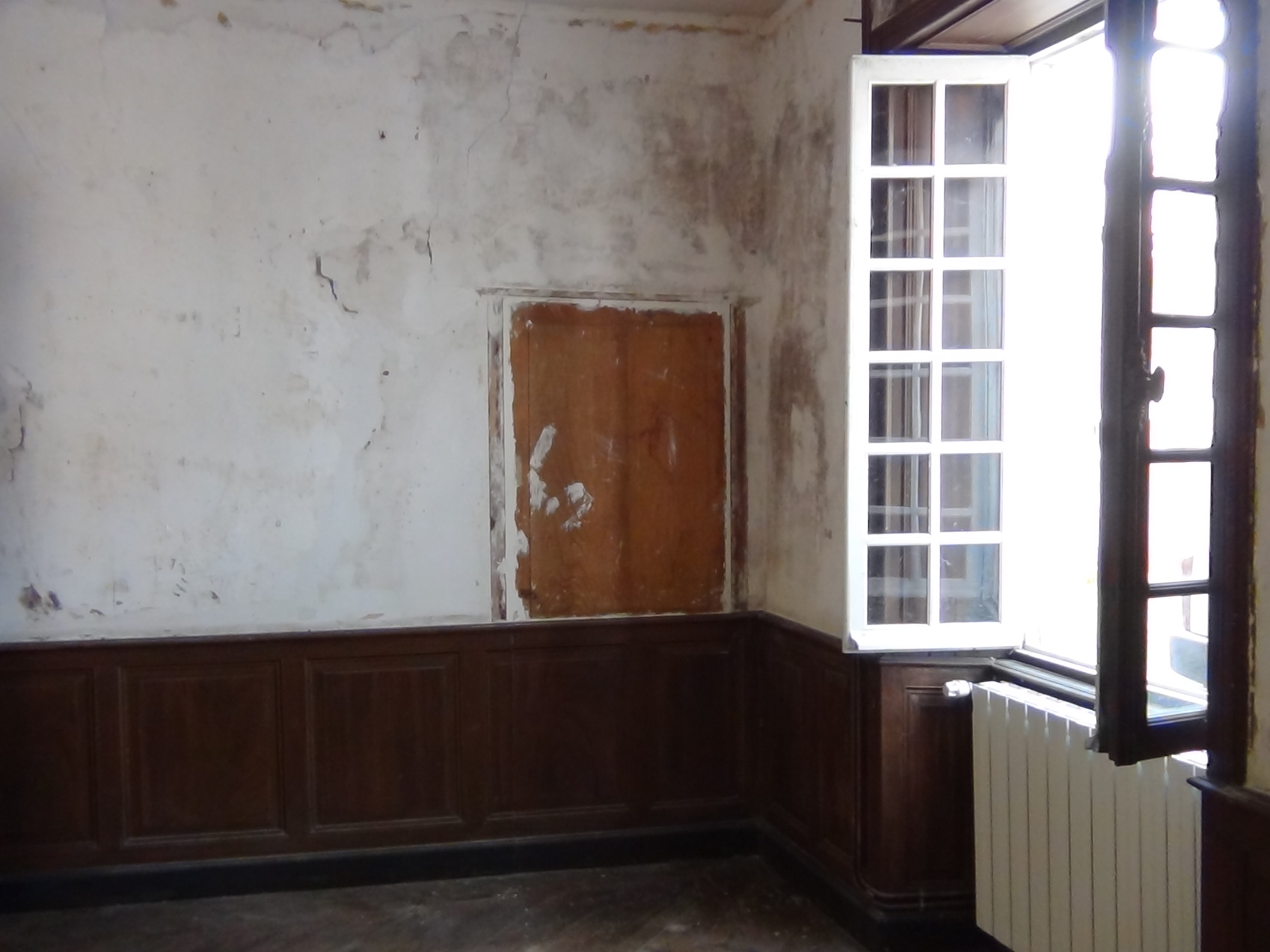 In this next photo, a lintel (beam that spans the top section of an opening, especially in a load bearing wall) is framed by two equally sized beams on either side of the opening.
When I discovered this framed out opening which has been filled in with large blocks of stone, I immediately thought this must have been a pass through during the home's earlier life when it was first built in 1832. But when I went around to the other side of this load bearing wall, the cellar stairs were on that side of the wall and I know, without a doubt, this cellar was here from the start. Then it hit me! This was a china cabinet built into the wall… or at least I think it was. If you have other ideas on what it could have been, please comment your ideas as I'm open to new possibilities.
Oh, and last but not least… I think the person who wallpapered this room was madly in love because throughout the entire room I kept finding little hearts drawn on the wall -  some were little rounds one, others were long and droopy ones, yet others had little arrows drawn through them.
What else could it be, right, but a man very much in love with – HEARTS?!
Au revoir!
By Cyn Terese on Dining Room Redo
Some people say, "If you want to make changes to a new house, try living in it for a while. It will reveal itself to you."
Well, I did just that. It took less than three days for me to realize the wall paper in the dining room had to go.  Since it was well on its way to coming off the wall all on its own, I decided to help it along. The first strip of paper came off easily, as I took my time whilst repeating in my head, "Steady as she goes, Steady as she goes."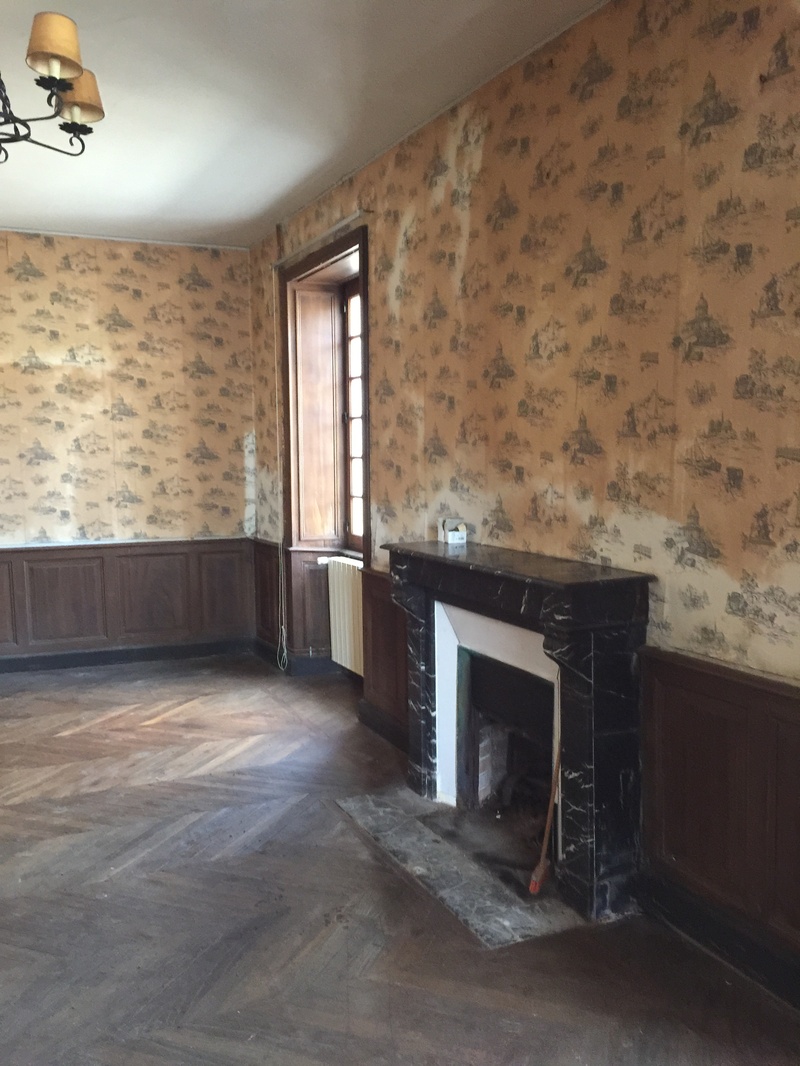 The next strip was a bit more difficult since the part that wanted to come off easily also wanted company in the form of chunks of plaster, yet the piece that refused to budge was firmly stuck to the wall.
I worked an entire day trying to remove wallpaper from a 10' square section of wall whilst making sure the walls kept their plaster. And what did I have to show for all of my hard work? Five scraped knuckles and three broken finger nails.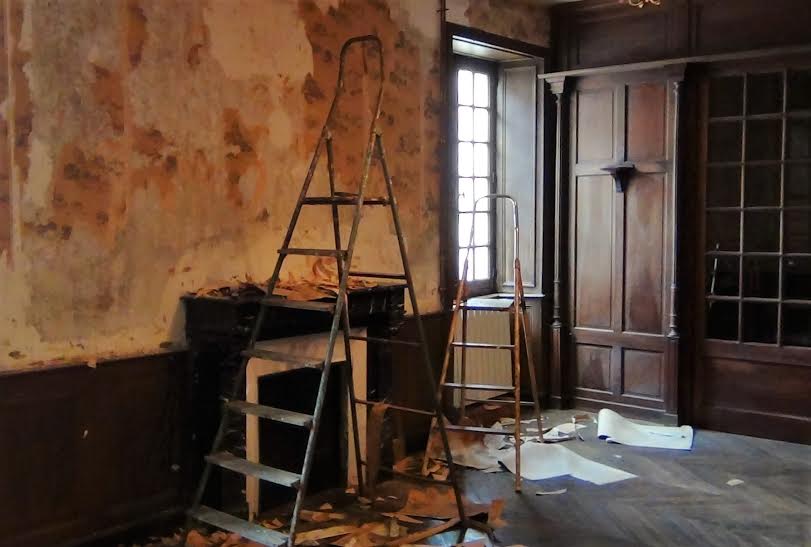 Then a friend says to me, "Why don't you wet it. It'll come off easier when its soaked." He was right.
In eight hours, all the wallpaper on the two remaining walls was stripped off; almost the same amount of time it took the first day with only my little scraper. But the worst part about all this is -- I knew that! I knew wet wallpaper comes off easily but I was being lazy trying to avoid cleaning up all that wet mess afterwards.
Lesson here is: avoid scrapes, bruises, and sore muscles by doing it right the first time. Cleaning up wet wallpaper is so much easier when you are not in pain and/or bleeding. 
Au revoir!
/